£1m boost for business in Blackpool
08/10/2006 10:58:03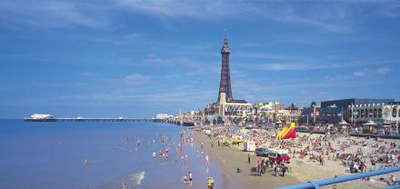 Twenty new jobs and over a million pounds worth of new sales are the result of a two year project by Lancaster University's InfoLab21 to help local firms in Blackpool become more competitive.
The Blackpool Business Development Initiative provided marketing support to more than eighty small and medium sized companies.Each company received a tailored package of marketing support, for example market research, branding and website development.
Project Manager Anthony Cook, from the University's Knowledge Business Centre, first spent time visiting the firms individually to find out their needs.
He said: "Most smaller firms can't afford marketing but they come to realise its importance because it makes a significant impact on their business."
The companies which the University has helped range from to a CCTV firm, hotels and manufacturing to those engaged in ICT.
Peter Trunkfield is the managing director of UK Travel Planners which offers car hire and accommodation for overseas visitors.He said business had increased tenfold since Lancaster University set up an e-commerce website to enable customers to book cars online.
Peter added: "I'm delighted - it's made the business and we've taken on more staff. We've achieved in a few months what it would have taken us three or four years to do otherwise.
"Before we had a free phone number for people to call from Australia and Canada but that generated a lot of paperwork and now people can book on the web it's much easier."
The project was part funded by the European Regional Development Fund and was run in partnership with Business Link and Blackpool Borough Council.
Peter Legg, the council's Head of Economic Regeneration said: "We're interested in supporting all businesses in Blackpool and offering them the opportunity to improve their competitive position. Working with the University has been proved through a number of projects to improve that position."
The University's Knowledge Business Centre is based at InfoLab21, a £15m centre of excellence for IT and communications technologies funded by Lancaster University, the Northwest Development Agency (NWDA), the European Regional Development Fund (ERDF) and the Higher Education Funding Council for England (HEFCE). Staff at the KBC aim to enable businesses and academics to work together to develop new products and processes through industry training and technology transfer.