E A Seguy Exhibition - 20 January - 21 March 2003
02/18/2003 12:25:15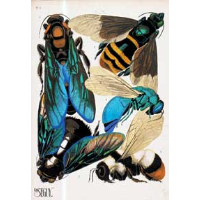 In addition to the stunning exhibition in the main gallery, Albert Irvin: Paintings and Prints (jointly with the Storey Gallery; until 21 March) an exhibition of prints by E.A. Seguy can be seen in the Peter Scott Gallery's Irene Manton Room.
The prints have been selected from two portfolio, Papillons (Butterflies) and Insectes, produced by the French designer Eugene Alain Seguy circa 1928. Seguy was active in Paris from 1900 until the late 1920s, during which time he demonstrated a mastery of the decorative styles of Art Nouveau and Art Deco. The natural world was Seguy's main source of inspiration throughout his career. He produced a number of colour portfolios of visual ideas for artists and designers. Featuring flowers, foliage, crystals and different types of animal life.
The beautiful illustrations in Papillons and Insectes were drawn from numerous scientific publications gathered by Seguy over a period of years. They have been enlarged by several times and drawn with meticulous attention to detail. Seguy's intention was to make available to artists, scientifically accurate illustrations of rare and exotic species of butterflies and insects.
Each portfolio features a number of decorative compositions and designs, which demonstrate how artists could use the illustrations as a basis for their own artwork. Papillons and Insectes continue to be wonderful sources of inspiration for decorative artists, illustrators, and textile designers.
The portfolios are hand-coloured and were produced using the pochoir technique - a printing process which involves using a number of stencils to apply the colours to each plate. This technique allowed Seguy to achieve a more accurate representation of the intense colours of the living creatures.
The prints on display in the room are from the Arthur and Mary Chambers Gift, and are on loan from Lancaster University Library Special Collections.
Gallery open: Monday - Friday 11am - 4pm & Thursday evenings 6 - 8.30pm. Admission free. www.peterscottgallery.com