University Helps Teenage Social Entrepreneurs
02/19/2010 12:19:42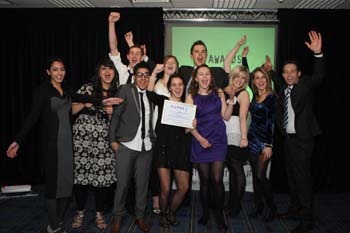 Winners of the Outstanding Social Enterprise Award from Nelson and Colne College
A hundred and forty teenagers have successfully run their own social enterprise with the help of Lancaster University Volunteering Unit (LUVU). The pupils from nine colleges and sixth forms in East Lancashire have all taken part in the Voltage project which is funded by v, the youth volunteering charity and supported by LUVU.
The social enterprises included a gardening project for primary schools, a business selling water bottles to fund new drinking fountains in school and a recycled jewellery enterprise.
The 14 teams involved made a total of approximately £1,800 which is being re-invested back into the schools, with some of the profit donated to charities.
LUVU's Voltage Coordinator Sidonie Richardson said: "This has been our second year working with schools and colleges in the East Lancashire area and the bar was definitely raised this year. The students Social Enterprises have been brilliant and they have all had the sustainability factor that we wanted to see through their enterprises. Our next step will be to help the businesses progress and see the social entrepreneurs achieve even more."
The project began in East Lancashire at Ewood Park in Blackburn and Turf Moor in Burnley, where the young people identified a need in their school or community. They then visited Lancaster University to create a marketing campaign for their social enterprise which they would use around their school to promote their business, which ran in school for four weeks supported by LUVU volunteers.
Prizes were awarded for outstanding enterprises and presentations at an event at Blackburn Rovers attended by school teams and teachers, as well as LUSU President Michael Payne, LUVU staff and volunteers.
Nelson and Colne College's team "Grass Roots" were the winners of the Outstanding Social Enterprise award, after running a gardening project to raise awareness of healthy living for primary schools.
Team leader Jen Hobson said: "The Voltage social enterprise scheme has been a very enjoyable experience for the whole of the Grass Roots team. It has been a great opportunity to get to know different people within the college and to help a completely different area of society, which we would have normally not come into contact with. I'm immensely proud, not only of what Grass Roots has achieved, but of what all of the schools involved in the Voltage scheme have managed to do in such a short period of time. We have definitely improved, and will continue to improve our local communities."