Lesson in climate change
02/28/2007 10:34:27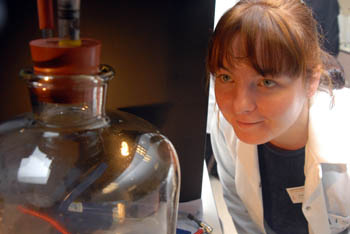 Susan Hope of Lancaster Girls' Grammar
Teachers from across Lancashire and Cumbria went back to the classroom this week as part of a mission to tackle the way climate change is communicated.
Twenty teachers from ten secondary schools came to Lancaster University's Lancaster Environment Centre to meet research scientists working on environmental issues such ecology, hydrology and atmospheric sciences. The teachers also took part in workshops and presentations on the theme of climate change.
All staff on the visit day are from schools taking part in a broader DEFRA-funded climate change communication initiative. The project is run by SETPOINT Lancashire and Cumbria working in partnership with LEC - a £25m million joint venture between Lancaster University and the Natural Environment Research Council's Centre for Ecology and Hydrology.
SETPOINT is part of the Science, Engineering and Technology Network (SETNET) which aims to give young people an opportunity to take part in Science, Technology, Engineering and Maths activities which are connected with the world of work.
Science and Engineering Ambassadors from LEC have been working with the schools as mentors, providing climate change expertise as well as acting as judges for pupil presentations.
Dr Kina Stewart, Climate Change Project Officer for SETPOINT Lancashire, said: "The way science is taught in school is changing. Once the curriculum presented science as fact where in reality the way science actually works is quite different. This workshop was an opportunity for teachers to see some research level science in action and to provide some ideas and resources to adapt for their own teaching within the new GCSE Science curriculum."
Professor Bill Davies, Director of LEC, said: "LEC is delighted to be involved in the Defra Climate Change Challenge and to work with students and staff from schools throughout the region to increase understanding of climate changes and impacts and to spread the word more effectively through the schools' community and beyond.
"It is clear that it is necessary for us all to understand both the reasons for the changes in climate predicted for the near future and the likely impacts of such changes. It is also important for all to appreciate the consequences of not intervening at the earliest possible opportunity to slow the rate of increase in atmospheric carbon dioxide concentration."
The ten Schools involved are:
Lancashire
Carnforth High School (applying for eco-school status)
Fulwood High School and Arts College
Lancaster Girls Grammar School
St. Augustine's RC High School
Wellfield Business and Enterprise College, Leyland (Eco school)
Cumbria
Queen Elizabeth School, Kirkby Lonsdale (Eco School)
Samuel King's School, Alston,
Settlebeck High School, Sedbergh.
Ullswater Community College, Penrith.
Windermere St. Anne's School.