Film and Media Open Days
01/17/2005 14:58:55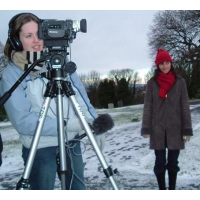 Budding Tarantinos are invited to look round one of Lancaster University's cutting-edge departments in a series of special open days.
Lancashire people interested in film and media are welcome to visit the University's newly expanded Institute for Cultural Research on February 16 or March 12.
This year the Institute - which is housed in one of one of the best Cultural Studies Departments in the UK - has also launched two new film and media BA degrees - Media and Cultural Studies and Film and Cultural Studies. These programmes give students the opportunity to try their hand at digital film-making, website construction, digital photography and computer gaming. Students can take courses on Documentary, New Media, Media History, Film Cultures and Hollywood Cinema.
New students will benefit from a significant investment in Media and Film teaching at the University, including the facilities of the Universities new Centre for Media and Performance which houses specialist equipment including a new 22-machine multimedia lab, screening rooms and several Digital video editing suites.
The Department now has 11 top media and film scholars from across the world, including a new head of Department, Dr. Fred Botting, and a new Reader in Digital Media, Dr. Charlie Gere.
The Institute has a growing international reputation with students from as far a field as China applying for places. The new courses - which have been especially designed by newly-appointed staff - offer students the opportunity to study media and film at the top University in the North West. The Department also runs MA and PhD programmes which can be taken on a full-time or part-time basis.
Admissions officer and Lecturer Imogen Tyler recommends that prospective students take a look at what Lancaster has to offer if they are considering taking a degree in this area.
She said: "Prospective students sometimes overlook what is already available on their doorstep, and in the case of Lancaster, we have one of the very best Universities in the UK and offer a range of exciting and innovative degree courses in the areas of media, film and cultural studies. There is a lot of competition for places but we have expanded our provision and we encourage local people to apply."
Prospective students of all ages are invited to come along and find out what the University has to offer. For more details about Media and Film Open Days or applying for a place please contact Imogen at 01524 594186, i.tyler@lancaster.ac.uk .